Data Processing Unit id interfaced with Milk Testing Machine like LACTOSCAN. It generates rates according to the results given by the milk testing Equipment. A separate display can be attached, that shows Code, Litre, Fat, Type of milk (C/B), SNF, Rate and Amount. Rate chart can be prepared easily using formulas. Daily Milk Purchase register with customer name. (For morning and evening session, Thermal printer and DMP printer required)   Last 5 Years payment register. Producer list, truck sheet, producer ledger, payment register, rate chart, print option.
Device Features
Display System: – Display all the functions on LCD (20×4 Characters).
Serial Thermal printer: – 2" Serial Thermal Printer is inbuilt on the Data Processor Unit. It can print in 24 and 32-bit mode.
Memory Specification: – Data Processor contains 2 GB memory card. It can store the whole date for minimum 5 years. Member code along with the Member Name. Date, time, shift timings, Automatic and Manual Entry of Collection, FAT, SNF will be stored on the memory card for a single member at the time of collection of milk.
Milk Analyser Selection: – There is an option to select the milk analyser Machine. Lacto scan, Masters Milk analyser, EMT are already interfaced on the Data Processor. User can select the Machine.
Keyboard and Keypad Interface: – All the functions can be operated using the Computer Keyboard or Optional Keypad. Those who don't want to attach Computer keyboard they can use small keypad for regular use.
Weighing Scale: – A six-digit weighing scale is given on the Data Processor. Just connect the load cell on the DPU using a five pin connector.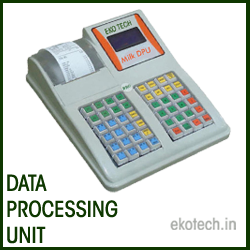 Functional Features
Members Limitation: – User can create 500 members for cow and buffalo. User can also select the number of buffalo and cow.
Member Info: – All the members will be assigned by the User. User can see all the members on the LCD or if want to Print all the members then it is a optional feature.
Rate Chart Selection: – There are 4 type of rate chart selection for Buffalo and Cow (FAT-SNF,FAT-CLR,FAT-Density). Formula based rate chart for mix milk.
Computer Interface: – This Data Processor can be interface with the Computer using our Software to upload manual Rate Chart. User can edit the rate on computer manually and connect the DPU with Computer using a USB to Serial Cable (Provided by us*) and upload the Rate-Chart on DPU.
Password Protection: – This is an additional feature of Data Processor Unit. User can protect the precious data of DPU by using this feature.
Automatic and Manual Collection: – Milk can be collected using two methods. Automatic and Manual. In Automatic Mode FAT, SNF another data is automatically collected from the Milk analyser. And if use want to collect the Milk manual then it is also possible.
Duplicate Slip: – If a duplicate Slip is required then just give the member code to the machine it will give the last collection receipt.
Reports: – It can print Shift report, Member Ledger, All members' total Amount report, Day to day reports.
Deletion Function: – User can delete the whole shift report and a single transaction also.
Machine Manual: – If you are new to this machine then you don't worry this machine can give information about its functions. It can print its manual also using Serial Printer.
Truck Sheet: – There is an Extra function for Truck Slip.
Weighing Scale: – There is function to select the weight in Kilogram and litre with auto tearing function automatically while collection is done.
Weighing Scale Calibration: – Easy calibration using keyboard. 5 Kg required to calibrate the Weighing Scale.
Due Payment Indication: – If Company has sold the unit and payment is due on the Customer then you can define the time limit to stop the functioning the Data Processor unit. It will show the Due Payment Indication.